What's On
This page has a timetable of our regular weekly meetings. 
Below that is a space for news of other recent or forthcoming activities. 
For a complete listing of events in the church building or involving the congregation, click on Calendar. 
Since the start of the first Government lockdown, we have found new ways to maintain fellowship during this pandemic.  The regular congregation are staying in touch by phone, WhatsApp and email, both as a whole and in small groups for more personal prayer requests. 
Contact us if you would like to join our WhatsApp groups, or receive copies of our messages using CDs / USB stick (etc).
During the first lockdown we were sharing daily messages about God's word on YouTube – see our "Video messages" page. 
Please also see the separate page on loving our neighbours during the coronavirus pandemic.
Weekly timetable
Our regular activities are as follows. For full details, see our Meetings page.
Sunday meetings: 
Morning service in the church hall at 10.30 am (entrance in Maddams St).  We hear a message from the Bible, celebrate the Lord's Supper, share our experiences and concerns, and pray together. 
Online meeting at 2.00 pm, click here to join using Zoom, or open the Zoom app then join meeting number 811 1710 1377 (no password is needed). This includes the same Bible talk, songs, and a time for sharing and prayer together.
Bethel Baptist Church (Portuguese language) meeting at 3.00 pm, in the old church building; use the entrance in Brock Place. 
Monday prayer meeting:
Monday evening at 7.30 pm, online.  Click here to join in, or use the Google Meet app and enter this code: ncd-wmfj-qud.
Wednesday bible study / discussion:
Wednesday evening at 7.30 pm, online.  Click here to join in, or use the Google Meet app and enter this code: ncd-wmfj-qud.
Other news:  
Days at Church
On Saturday 5 January 2019 many of us came together for a "Day at Church".  Some had a session on "Standing up for yourself with respect". Meanwhile, others learned new cooking skills, preparing a good lunch for us all.  After lunch, most of us stayed on for "Handling money well". 
Everybody enjoyed the day and asked for more like it. 
On 27 July we had another day together, again with sessions on relationships and money, as well as a brief intro to home maintenance. 
The idea of these days is that we can look at topics which don't fit into a Sunday but which are worth thinking about.
Let us know what other practical matters you would like to explore.
We had planned our next Day at Church for a Saturday in early 2020, with sessions on relationships, risk & insurance, and personal evangelism.  However, this had to be postponed.
Developing Ministry
James writes that "Not many of you should presume to be teachers, my brothers", but Paul writes to Timothy, "If anyone sets his heart on being an overseer, he desires a noble task." 
The "Developing Ministry Group" is a coaching session for people who may be gifted for teaching or other ministry in the church.  For more information, please speak to one of the pastors. 
Community events
In addition to the church's own activities, our building also hosts various local community events.  
On one Saturday afternoon each month there is usually a club called Games4All, where neighbours get to know each other playing table-top games. Children are very much included, but parents must stay as well if the children are young.  Games4All dates are normally shown in the Calendar page, but meetings are currently suspended due to coronavirus precautions.  For more info, email LinkingU_enquiries@yahoo.co.uk. 
In June or July each year, we usually help to host the Brock Place Community Party.  The 2019 party was on Saturday 22 June. There was no party in 2020 due to the coronavirus.
In February 2019, with the Bromley-by-Bow Centre, Communities Driving Change (CDC), and local landlords we hosted an event for the community around Devons Road & Watts Grove. This included a Discovery Walk in the morning and a fun day in the afternoon, with crafts and activities for children, and information about nearby places to find support.  
Following that, a local walking club started meeting outside the church hall entrance every Thursday morning at 10.00.  This is also currently suspended due to the virus.
CDC were back with more community events at the Lighthouse in December.  
We hosted the GrowTH Night Shelter for one night per week in March 2020. This ended up being a short season, because the GLA stepped in to provide hotel accommodation so that homeless people could isolate themselves safely during the coronavirus outbreak.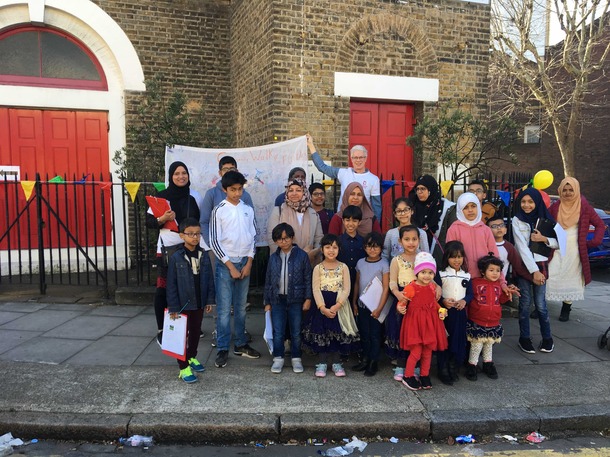 Community event in 2019 – end of the Devons Road Discovery Walk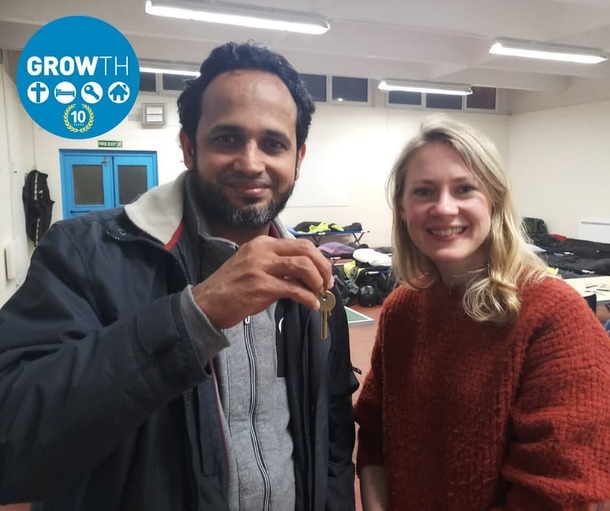 One of the guests at the GrowTH Night Shelter celebrated getting a place of his own by coming back to thank the team for their help